Spend Limits is a tool to help you gamble responsibly. Using this tool, you can set up a limit to control how much you spend each day, week or month. New spend limits take effect immediately.
Please note spend limits are based off the last 7 days of activity, if the amount is greater than your spend limit it will prevent you from checking out.
To set your Spend Limits, just click on My Account > My Funds > Spend Limits > Set Spend Limits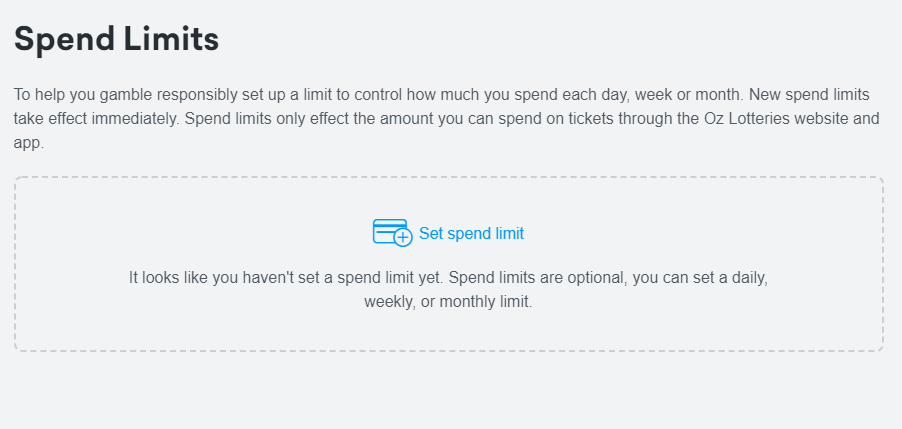 On the app, just tap on My Account > Spend Limits > Set Spend Limits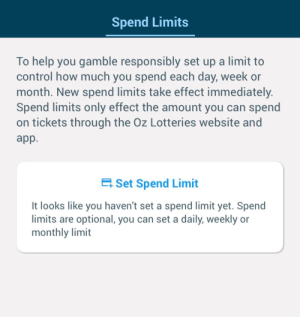 Once you've set your Spend Limits, you can choose to Edit or Delete it.
For South Australian Customers
For South Australian residents, the South Australian Government have Responsible Gaming features for South Australian residents using Oz Lotteries called a Pre-Commitment Limit.
The Pre-Commitment Limit feature sets a weekly amount for you to deposit in any one week period. You will be reminded of this amount when you reach it. Due to South Australian law, we need to record your preference every 23 months.
To view and/or change your Weekly Deposit Limit please visit the Weekly Deposit Limit section located in My Funds. Please note that to remove or increase the Pre-Commitment Limit takes 7 days.

If you have any further questions or concerns, please do not hesitate to contact our Customer Support on 1300 188 911 or at support@ozlotteries.com