As you may be aware due to changes to the agreement between Oz Lotteries and The Lottery Corporation, Oz Lotteries are no longer authorised to sell tickets online to Western Australian customers.
For that reason we have partnered with Lotterywest to create Oz.Lotterywest.com so our Western Australian customers can still continue to play with us.
You will be invited to migrate your account from our Oz Lotteries platform to our new platform www.oz.lotterywest.com prior to the 21st of December 2020, which is when we are no longer permitted to sell tickets to Western Australian customers via our Oz lotteries website.
How do I migrate my account?
Step 1: When you log on to your Oz Lotteries account you will be prompted to click on a link to migrate your account when your account is ready for transfer.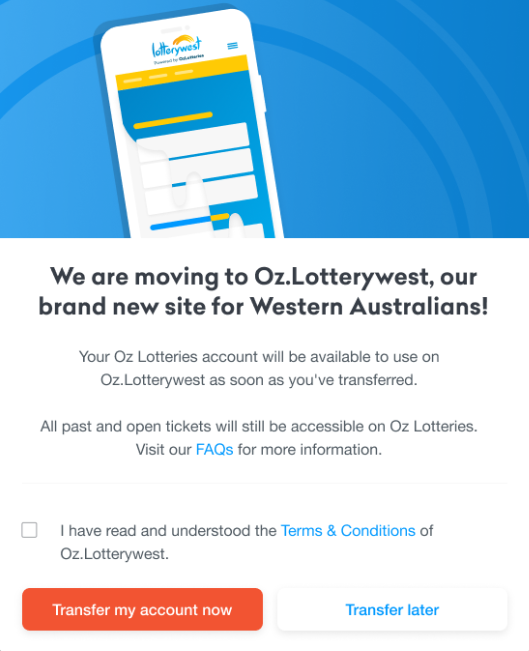 Step 2: Once you agree to the terms and conditions and click the 'Transfer my account now' button this will take you to the next screen where the migration to oz.lotterywest.com will take place.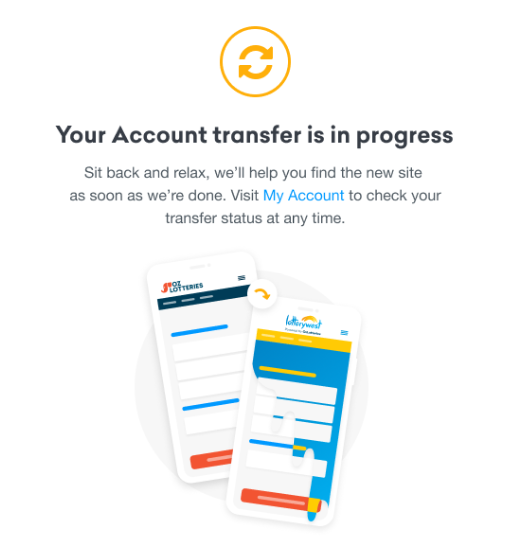 Step 3: The following screen will populate and you can click on the blue button to take you to www.oz.lotterywest.com where you can log into your account.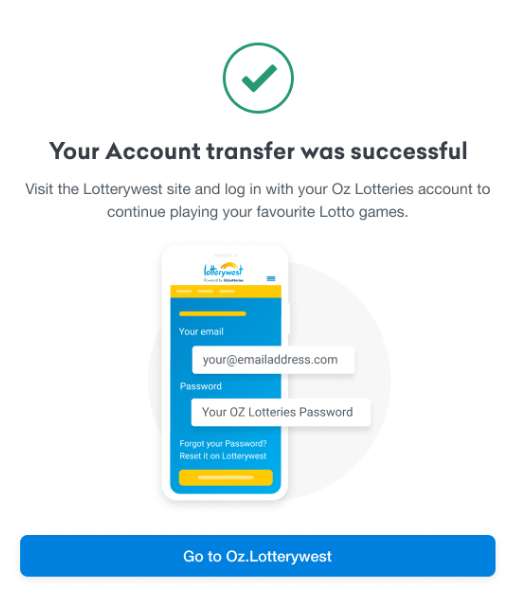 Please note: If you do not receive the above successful message, please check your internet connection, and try again. If you still have issues with migration please contact support@ozlotteries.com or call us on 1300 188 911.
What information will be migrated with my account?
Verification
If your account has been previously verified on Oz Lotteries.com this information will migrate with you to oz.lotterywest.com and you can play straight away. If you have not previously verified your account you will be prompted as part of the migration process, and will need to verify to play, deposit funds or for Autoplays to purchase successfully. Click here for more information.
Account Balance
Your account balance from your Oz Lotteries account will migrate over to your oz.lotterywest account and be available to use for purchases straight away.
Spend Limits and Deposit Limits
Your spend and deposit limits will be migrated across to your oz.lotterywest account, however on the new platform there will be a $500 weekly spend limit, and a $5000 e-wallet balance. If your balance exceeds $5000 it will be deposited into your bank account, if you have not added a bank account to your Oz Lotteries account, you will need to add this once your account is migrated.
Payment Details

Your payment information from Oz Lotteries will migrate over to oz.lotterywest, this includes credit cards and PayPal. Any bank accounts will also migrate over. If you have direct debit or Bpay Payments you will need to update the account details to reflect oz.lotterywest - www.oz.lotterywest.com/my-account/deposit.
Autoplays
Any active or paused AutoPlays will migrate across from your Oz Lotteries account as long as these games are offered on Oz.lotterywest.com and the tickets are less than $500. If the ticket is not available on the new platform you will not be able to purchase on either platform. To view a list of available games on oz.lotterywest.com click here.
Favourite Numbers
Any favourite numbers saved, will be migrated across as well.
If you have any trouble with migration please contact our support team on support@oz.lotterywest.com and we will assist you through migration, you can also use live chat on our website if you prefer or call us on 1300 188 911.