How do Syndicates work at Oz Lotteries?
Here at Oz Lotteries we handle organizing the syndicate group for you when you purchase a syndicate ticket on our website.
 1. When you initially opt in to a syndicate, you are requesting for a 'share' into the group.  Once your purchase is successful, you have 'reserved' your share in the syndicate.  
Note: When reserved you will receive an email that looks like the one below.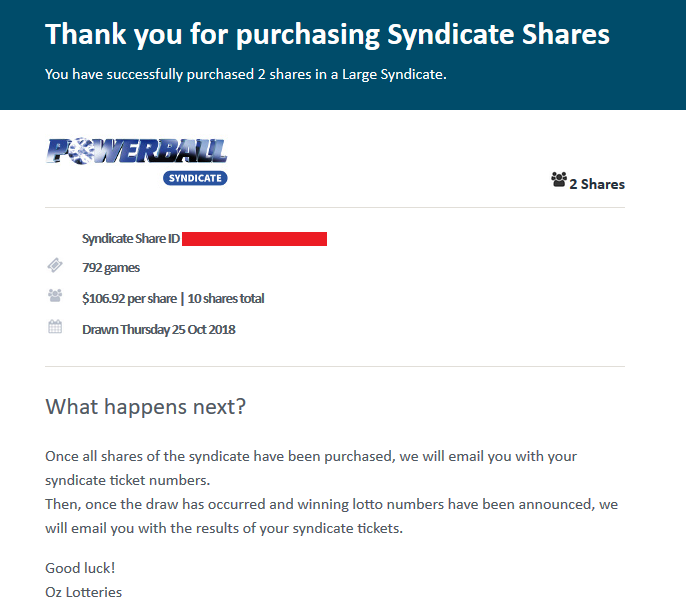 2. You will then just need to wait for all the shares in the syndicate group to be filled.  Please keep in mind that this process is reliant on how long it takes for the other shares to be purchased.  Once all shares are purchased and the syndicate has filled, success!  You are now a part of a group of potential big winners!
Note: When your syndicate group is then organized you will receive an email that looks like the one below.

3. The following day you will then receive a result email for your ticket, alternatively you can always check the my tickets page for your results.
 4. If the shares do not sell, and the syndicate is not filled the cost of the share(s) you have paid will return to your Oz Lotteries account.  This normally occurs once the draw has completed.  
Note: The email that you will receive will look like the one displayed below, examples in all the steps are of Powerball but you will receive the one relevant to the whatever lotto game you are playing e.g Oz Lotto and Saturday Lotto.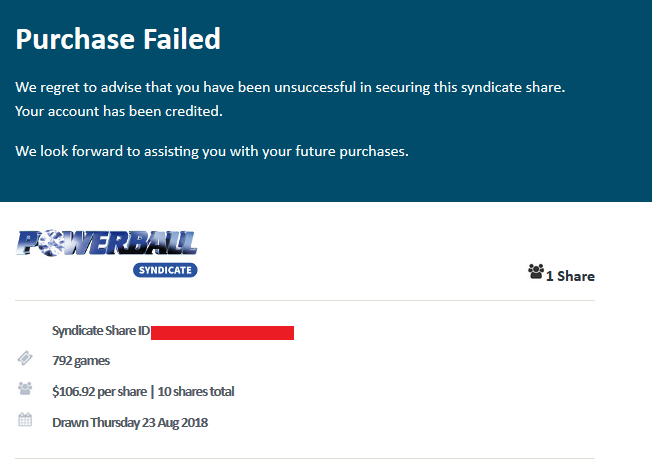 For more information, check out our detailed video explaining how syndicates work.
If you have further questions regarding syndicates please do not hesitate to email as at support@ozlotteries.com or call as on 1300 188 911.