Charity lottery tickets sold by Oz Lotteries are digital; you will not be sent a physical paper ticket.
You will find your Tickets stored in your account's 'Upcoming Tickets' page.
Customers will also receive an email with their charity tickets upon purchase, displayed below: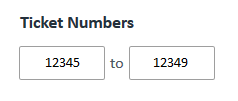 Standard 5 x Ticket Book
For any questions, concerns or comments, please contact our Customer Service team at support@ozlotteries.com or on 1300 188 911.